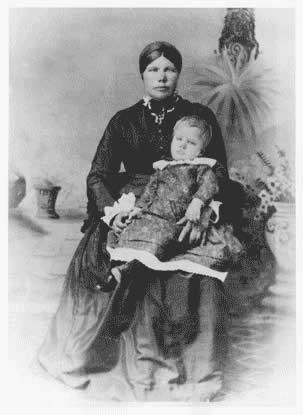 Johan Aasen at Age Two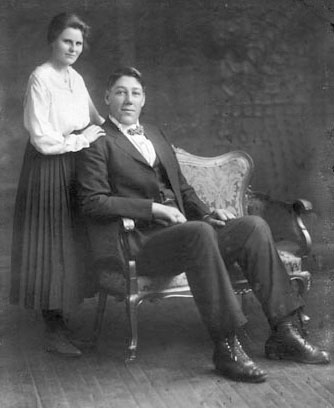 Johan and His Sister Evelyn
Very little is known about Johan's early years. One accounting has him born in Hennepin County, Minnesota March 5, 1890. However, according to an article written in the North Dakota Eddy County Provost, he was born on a farm near Sheyenne, North Dakota where he spent his boyhood years.
His mother, Kristi Danielsdtr Aasen, was born October 31, 1867. She grew up in "Gvamsaasen" in the Village of Veggli in the Numedal district of Norway. Kristi and her father, "Big Daniel", are both said to have been extremely tall, reportedly around 220 cm (7'2½") in their stocking feet.
In the spring of 1887, Kristi traveled from her farm, Danielsrud on Gvamsaasen, in Rollag and immigrated to America by way of Liverpool on the S/S Rollo. She was only 19 years old. The passenger list on the ship registered Kristi Danielsen as single. However, she reportedly traveled with a friend by the name Andres Olsen Aakerbraten who paid her way. She ultimately arrived in Minnesota and sought out her aunt who was Big Daniel's sister. Her name was Kristi Danielsrud Bakke.
There is no known record of the identity of Johan's father. Some accounts speculate that Kristi may have been pregnant when immigrating, in fact it may have been her secret reason for leaving Norway and that a Swedish man by the name of Nils Jansson Bokke may have been the father of Johan. Nils was said to have been a very tall man at around 2.44 meters (8 feet) who was working on the railroad in Numedal at that time. It's a compelling (storybook) notion that the legionary tall Swede was Johan's father and that Kristi had to leave her homeland to be spared from family disgrace. However, comparing the date of her departure to the date of Johan's birth indicates that she would have been in the US three years before he was born. Since Nils Bokke remained in Numedal, he could not have been Johan's father.
It is still a mystery as to who was the father of John Aasen.
There is also no record that Kristi ever married. Johan was given the family name of Aasen, Kristi's family name from her father Daniel Seversen Aasen.
It is believed that the picture shown in the upper left is Johan at about age two sitting on his mother's lap.
Kristi Aasen's had two other children, a son Alfred and a daughter Evelyn. Evelyn was born in 1896 or late 1895. When Johan was 12 years old, his mother died. Family and friends then took in the three children.
Evelyn became Evelyn Benson when she married Ben N. Benson.  Little is known of Alfred's life. None of Kristi's children including Johan had children of their own.
The picture of Johan and his sister Evelyn on the left was taken when he was still growing.
As Johan was growing up he reportedly had a difficult time finding normal employment because of this height. He began his working career as a farmhand. He spent several years in New Rockford, North Dakota while growing up. This time of his life is very sketchy. There was no compelling reason to keep a historical record of his life until he reached notoriety because of his extraordinary height.